Discover more from HOUSE IN THE CLOUDS Documentary
This site is devoted to the documentary "HOUSE IN THE CLOUDS: The Artistic Life of Robert Singleton," a production of AmpMediaProject.com profiling a remarkable American artist's life and times. Not all of them easy ones.
OUT IN THE 'CLOUDS'
One marvelous Thomas, WV screening down, two others coming elsewhere
FIRST, THE NEWS. And, then, the views from two splendid screenings of "HOUSE IN THE CLOUDS: The Artistic Life of Robert Singleton" this past weekend in the artful mountain town of Thomas, W.Va. ~ Douglas John Imbrogno | october18.2023
---
SCREENINGS: NOV. 1 and 8 in CHARLESTON, W.VA.
IF YOU MISSED THE 'HOUSE IN THE CLOUDS" World Premiere on Sept. 17 2023, and are in striking distance of West Virginia's capital, come to one of two Charleston screenings of this moving profile of the traumas and triumphs in the life of 85-year-old painter Robert Singleton. They occur 7 p.m. WEDNESDAY, NOV. 1 and NOV. 8, at the West Virginia International Film Festival theater in the basement of Taylor Books, 226 Capitol St. Tickets cost $9 adults, $5 students and there are just 30 per screening in this intimate art-house space. Imagine your own personal theater with a popcorn machine. (I just watched the re-release of Jonathan Demme's epic concert film "Stop Making Sense" there and it was like being in box seats at a Talking Heads rave-up.)
ORDER TICKETS: www.wviff.org
OR HERE: facebook.com/floraleeharkcohencinema
---
SCREENINGS: NOV. 10 and 11 in LOST RIVER, W.VA.
WE"RE HAPPY TO SCREEN THE FILM almost in Robert's backyard with two screenings, at 7 p.m. FRIDAY and SATURDAY, NOV. 10 and 11, at the The Inn at Lost River in Lost River, W.Va., followed by a Q-and-A with Robert and reception.
TICKETS: Tickets $20 at houseinthecloudslostriver.eventbrite.com
---
Scenes and Screens in a Mountain Town
Colorized photo of the main drag in Thomas, WV. The Gradient Project space is the white storefront two doors down to the left of Bloom. | Douglas John Imbrogno photo
---
THE SMALL BURG OF THOMAS, WV is a few miles west of Davis, the highest town in West Virginia at 3,520 feet. (The towns were named after two brothers.) Although way out in the hills and up in the highlands, Thomas has in recent years blossomed into a thriving hotspot reflecting its early history. It's often flooded with tourists checking out the galleries, eclectic tuneage at The Purple Fiddle, caffeination at TipTop Coffee and more. My co-filmmaker Bobby Lee Messer and I were glad to screen our work in the unorthodox, innovative Gradient Projects, an artist-run project and event space. Much praise to Nathan Baker, one of the founding artists, who helped bring the curtain up and down on our event and to our bartender, Juli Kimbrell, who is herself (sources inform us) "a local creative bad-ass," who recently directed in Thomas a Crumbles' Vaudeville performance of Chekov's "Uncle Vanya."
---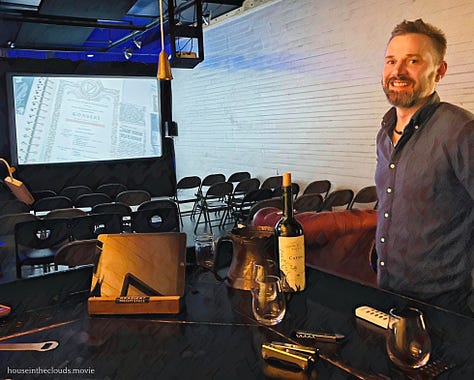 ---
WE FILLED THE ROOM with about 35 folks for the Saturday screening and Sunday matinee. A Q-and-A followed with Robert discussing the often difficult emotional terrain the hour-long documentary covers. The film tracks his abusive childhood and how he was ejected from art school for being gay and determined to be a 'social deviant' because of his homosexuality. This resulted in his initial stay in an insane asylum in Williamsburg, Virginia, where he grew up. There would be other stays in psych wards, after multiple attempts at self-annihilation.
---
Robert takes questions at the Gradient Project space. | Douglas John Imbrogno photo
---
EVEN AFTER RESOUNDING ARTISTIC SUCCESS, Robert's heart-rending losses from AIDS in the 1980s and '90s might have crushed a lesser soul. In fact, he stopped painting after the epidemic claimed the love of his life then, plus a lifelong best friend and a host of others. For 20 years he painted nothing up on the remote West Virginia mountain where he first built his 'house in the clouds' in 1978. How he came to paint again — and keeps producing world-class art at age 85 — is the core of the film's tale. Through it all, his inquisitive, creative soul kept striving and seeking. As he remarks early on about his terrible childhood and mental hospital stays:
"I was an artist, I loved art. I loved music. I loved beauty. I loved walking on the beach. I loved nature. I was probably a romantic in the true sense of the word. And maybe that's what saved me."
---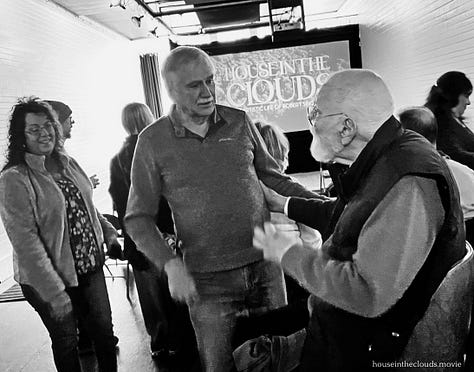 WE WERE GLAD TO SEE an eclectic crowd for these screenings, including friends of the artist from far away, as well as close by. These included Linda Reeves (above with Robert), owner of The Studio Gallery in Thomas, which represents his paintings. Free subscribe to this newsletter for news of future screenings and to follow the path the film takes in the world.