Discover more from HOUSE IN THE CLOUDS Documentary
This site is devoted to the documentary "HOUSE IN THE CLOUDS: The Artistic Life of Robert Singleton," a production of AmpMediaProject.com profiling a remarkable American artist's life and times. Not all of them easy ones.
'House in the Clouds' tickets now on sale
The world premiere of the Robert Singleton documentary is Sept. 17, 2023
By Douglas John Imbrogno | A heads up! Tickets are on sale now for the world premiere of the documentary "HOUSE IN THE CLOUDS: The Artistic Life of Robert Singleton." We'll let you feel all official-like and read the press release announcing the event (below). The screening takes place rather dramatically right on the main stage of the Clay Center in Charleston, W.Va., one of West Virginia's premiere performance halls. NOTE: Seating is limited and we encourage folks to reserve tickets in advance or call the box office during business hours at 304-561-3570.
FOR MORE ON ROBERT'S engrossing life and work—and for anyone who'd like to help support the cost of completing and distributing "House in the Clouds" through an upcoming SEEDandSPARK crowdfunding campaign—free subscribe (if you have not already) to the documentary website at https://houseintheclouds.movie.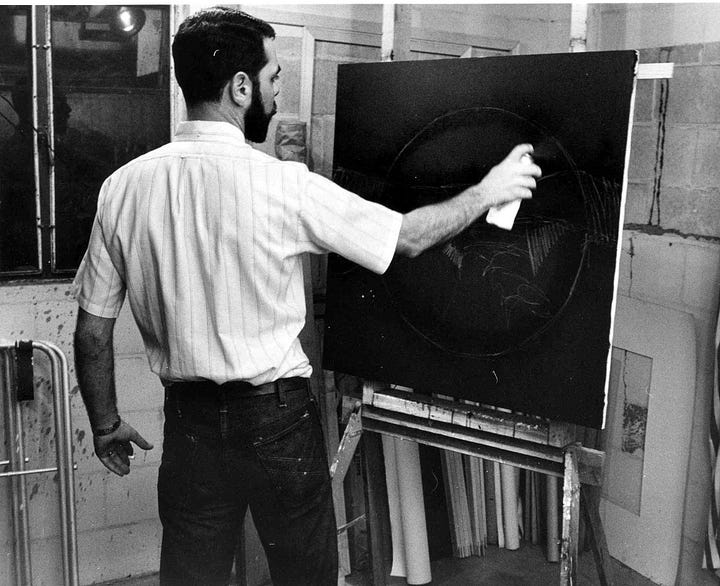 ---
'HOUSE IN THE CLOUDS' world premiere documentary to screen on Clay Center main stage in Charleston, W.Va., on Sept. 17, 2023
WEBSITE: houseintheclouds.movie
TICKETS: Call 304-561-3570 or visit: https://secure.theclaycenter.org/9971
CONTACT: Douglas John Imbrogno, 304-638-9784 | douglaseye@gmail.com.
The West Virginia International Film Festival presents the AmpMediaProject documentary 'HOUSE IN THE CLOUDS: The Artistic Life of Robert Singleton,' in a world premiere on The Clay Center main stage in West Virginia's capital city of Charleston, at 7 p.m., Sunday, Sept. 17, 2023. The documentary traces the eventful life and times, some of them traumatic and tragic, of a notable American artist, now 85, who has lived and worked on a remote West Virginia hilltop since 1978, in a house he designed and built.
Through disturbing, sometimes violent early years that included multiple suicide attempts and mental hospital stays, Robert Singleton thrived through his music and art. He was first recognized as an abstract expressionist and his award-winning art came to be showcased and sold widely, from the Kennedy Center to New York galleries. Feeling he had said all that he could in that style of painting, he turned to 'light paintings,' with evocative and dramatic clouds and horizon lines at the convergence of heaven and earth, which led to a new era in his career.
Tragedy ensued with the onset of HIV/AIDS, and today nine friends and lovers he lost through that crisis and other illnesses are buried and memorialized beneath a tall tree at his mountaintop home in eastern West Virginia. After meeting Elizabeth Kubler-Ross, famous for her theory of the five stages of grief, he trained in accompanying others in their final hours. Spiritually exhausted and feeling he had nothing more to share creatively, he ceased painting for nearly two decades until, in 2012, he was inspired to pick up his brushes and began exhibiting and selling his work again. Now in his 85th year, Singleton's art is more popular and vibrant than ever. In 2022, he was named a Tamarack Foundation for the Arts 'Master Artist' in West Virginia. Experience an immersive, wide-ranging digital gallery retrospective of the artist's work at: http://rsingleton.net and at the official documentary site: https://houseintheclouds.movie.
The WVIFF was founded in 1985 with the mission to encourage a love of cinema through diverse and inclusive films, says Delford Chaffin, President of the WVIFF board. "This documentary speaks to that mission as it showcases the richly lived life of an artist who has called West Virginia home since 1978 and who, despite all the traumas of his upbringing and who for decades felt forced to conceal who he was as a gay man, won out through his spirit and artwork."
---
"The Gathering" by Robert Singleton
The documentary premieres at 7 p.m., following a 6 p.m. reception in the Clay Center art gallery, where one of Singleton's paintings will be featured. A Q-and-A with the artist follows the screening on stage.
"The Clay Center is excited to host this world premiere of the 'House in the Clouds' documentary about Robert Singleton, whose work is on display in our Juliet Art Museum," said Elizabeth Simmons, the Clay Center's Curator of Art & Engagement. "His large cloud painting 'The Gathering' is in our current exhibition 'The Possible Dream: Collection highlights celebrating the 20th anniversary of the Clay Center.' This painting was purchased from our 2019 Invitational exhibition and demonstrates our commitment to supporting Appalachian artists. We look forward to welcoming Robert back to the Clay Center and to be in conversation with the documentary's filmmakers and to learning more about his life and creative process."
AmpMediaProject is an award-winning, small production house based in West Virginia, whose documentary, feature and music video work by Douglas John Imbrogno and Bobby Lee Messer has been seen in film festivals around the world. "Robert's life story is a powerful one," says Imbrogno. "It is worth exploring how such a robust, bright spirit kept his art alive through the fire and forge of so many losses, troubles, and challenges. The art that resulted is good for the soul. Robert's story is worth sharing widely."
The documentary soundtrack features a host of West Virginia-based musicians, including innovative guitarist Spencer Elliott; classical pianist Barbara Nissman (recently inducted into the West Virginia Music Hall of Fame); National Flatpick Champion Robin Kessinger and others.
---
'HOUSE IN THE CLOUDS' Trailer | Click to watch
---
PS: This is not in the press release
For some reason, this quote—one of my favorites, written down decades ago as a young man in one of my journals—recalls for me the epic quality of the encounter with the horizon line paintings of Robert Singleton:
'When the rational historian has come in to take away authority from the mystical and tribal bard, the artist has returned to create new forms of expression, to resacralize, re-enchant, remythologize."
~ from "The Time Falling Bodies Take to Light," by William Irwin Thompson
"South Branch" by Robert Singleton
---