Discover more from HOUSE IN THE CLOUDS Documentary
This site is devoted to the documentary "HOUSE IN THE CLOUDS: The Artistic Life of Robert Singleton," a production of AmpMediaProject.com profiling a remarkable American artist's life and times. Not all of them easy ones.
'HOUSE IN THE CLOUDS' comes to Thomas WV
Gradient Project Space to host two limited-seat screenings in mid-October
TICKETS ARE NOW ON SALE via EventBrite for two limited-seat showings of 'HOUSE IN THE CLOUDS: The Artistic Life of Robert Singleton' in Thomas, W.Va., at Gradient Project Space, at 7 pm, SAT, Oct. 14 and 3 pm, SUNDAY, Oct. 15. It's an intimate space for the intimate AmpMediaProject documentary about the remarkable art and notable life of Robert Singleton, who paints onward at age 85 atop a mountain deep in the West Virginia hills. Tickets are $17 with charges, through EventBrite. Gradient Projects Space is a cozy and hip artist-run space on the main drag in the artful mountain town of Thomas WV. They have blackout curtains hung from their ceiling, making it possible for 35 viewers at each screening to view the film.
---
EVERYTHING IN THE OFTEN HARROWING UPBRINGING and life of Robert Singleton stood against his dreams of becoming an accomplished artist and remaining one. From a series of attempts on his own life, to living as a closeted gay man in the middle of the 20th century, which included being ejected from art school in a 'gay purge' and being sent to a mental ward to be fixed for his 'social deviance,' and later in life his deep personal losses from the AIDS crisis, it might seem the deck was stacked against him ever achieving and sustaining his dream of making art. He could have shut down for good. Yet as he notes in this hour-long film by Bobby Lee Messer and Douglas John Imbrogno: "It didn't turn out that way ..."
Thanks for reading HOUSE IN THE CLOUDS Documentary! Subscribe for free to receive new posts and support my work.
---
Excerpts of some reviews
READ THE FULL REVIEWS:
MOUNDSVILLE.ORG REVIEW by JOHN W. MILLER:
moundsville.org/2023/09/19/the-horizons-of-west-virginia-artist-robert-singleton/
THEREALWV.COM REVIEW by AUTUMN SHELTON:
therealwv.com/2023/09/19/wviff-presents-world-premier-of-house-in-the-clouds-the-artistic-life-of-robert-singleton-at-charlestons-clay-center/
POPCULTBLOG REVIEW BY RUDY PANUCCI:
popcultblog.com/house-in-the-clouds
---
Images from an artist's life
TO VIEW A CAREER RETROSPECTIVE of Robert's art, visit: resingleton.com
---
Photos from a World Premiere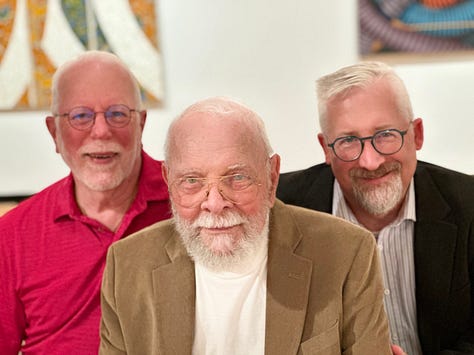 'HOUSE IN THE CLOUDS' filmmakers Bobby Lee Messer (left) and Douglas John Imbrogno stand before the Singleton painting 'The Gathering,' in the Juliet Gallery show 'The Possible Dream.' | Photography by Annabel Park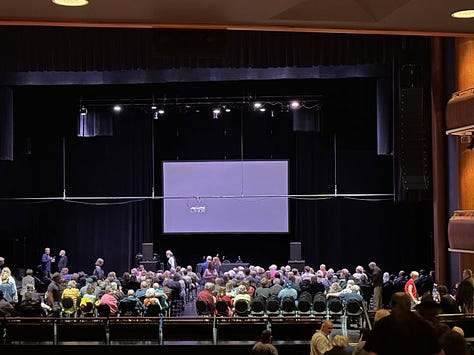 ---
Stay up to date
FREE SUBSCRIBE to the film's website and newsletter at houseintheclouds.movie for more news about the film. We're planning a two-night run at The Inn at Lost River in Lost River, WV, for Veterans Day weekend in early November, plus the W.Va. International Film Festival will screen it this winter in its theater in the basement of Taylor Books in Charleston WV.